Oto kilka nowych, ciekawych i moim zdaniem godnych polecenia płyt jazzowych, które właśnie się ukazały lub też w najbliższych dniach trafią do sklepów:

Avishai Cohen - 'Seven Seas'
Hebrajski jazz w najlepszym wydaniu. 'Seven Seas' to najnowszy krążek izraelskiego kontrabasisty i wokalisty
Avishai Cohena
. W Europie ukaże się w sprzedaży pod koniec lutego.
Krótkich fragmentów 10 utworów, które znalazły się na płycie możecie posłuchać m.in.
TUTAJ
. Więcej informacji znajdziecie
na stronie domowej
oraz na
profilu MySpace
.

Kurt Elling - 'The Gate'

Repertuar niezbyt odkrywczy, ale wykonanie tradycyjnie już fantastyczne. Na najnowszej płycie wokalisty Kurta Ellinga znalazło się 9 standardów muzyki jazzowej, rockowej i popowej w aranżacjach, których nie słyszy się na codzień.
Więcej informacji oraz fragmenty utworów z tej płyty znajdziecie
TUTAJ
. Ci z was, którzy mają dostęp do płytoteki MySpace mogą posłuchać płyty w całości w
odtwarzaczu MySpace
.

Quasimode - 'Magic Ensemble'
To piąta studyjna płyta japońskiego kwartetu Quasimode. Do udziału w jego nagraniu muzycy zaprosili m.in. AFRA, Miyuki Hatakeyamę oraz HanaH. Album pulsuje żywym acid- jazzowym rytmem, wspomaganym przez ciekawe wokale i hip-hopowe 'wstawki'. W Japonii ukazał się pod koniec stycznia tego roku. Więcej o zespole znajdziecie
TUTAJ
.

Al Di Meola - 'Pursuit of Radical Rhapsody'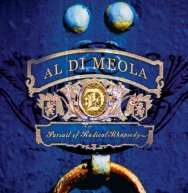 Najnowszy album wirtuoza gitary pod tytułem 'Pursuit of Radical Rhapsody' ukaże się w połowie marca. Więcej o tym krążku znajdziecie w Jazzava cafe
TUTAJ
.
Wszystkim miłośnikom krajowego jazzu przypominam także
o nowej płycie
zespołu
Marcin Wasilewski Trio 'Faithful'
, której premiera jest zaplanowana na 4 marca.